Top 10 Ag Stories of 2022: No. 7
Mississippi and Ohio Rivers Hit Rock Bottom in Fall 2022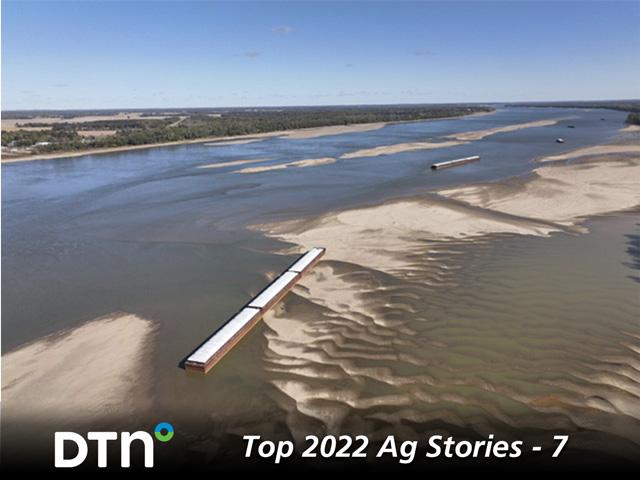 Editor's Note:
Each year, DTN publishes our choices for the top 10 ag news stories of the year, as selected by DTN analysts, editors and reporters. This year, we're counting them down from Dec. 19 to Dec. 30. On Jan. 1, we will list some of the runners-up for this year. Today, we continue the countdown with No. 7 looking at how lower levels on major rivers, such as on the Mississippi and Ohio Rivers, affected transportation of commodities and fertilizer and caused basis headaches for river terminals.
**
(DTN) -- Water levels on the Lower Ohio and Mississippi River started to fall in late August, creating havoc for barges trying to move south.
As corn and soybean harvest started in September, water levels on the Lower Mississippi River (LMR) were dangerously low in some areas, especially at Memphis with the river there was at minus 6.7 feet during the last week of September. Since most of the fall export business was for soybeans at the U.S. Gulf, the persisting low water was problematic for shippers needing to move the new-crop harvest down river.
The low water became an issue throughout the entire system due to lack of rain in the entire Midwest and Ohio River Valley. Precipitation in these areas is very important for maintaining sufficient water levels on key rivers, Thomas Russell, of Russell Marine Group, told DTN on Oct. 1. "In recent weeks, low water levels, particularly on the Lower Mississippi, have resulted in barge terminals having difficulty loading barges with some barge terminals unable to operate due to low water at docks."
By mid-October, barge groundings were stopping loaded barges from reaching the Gulf in a timely manner and river terminals were scrambling to stay open as harvest bushels want to move there. Dredges started working in all the low water areas and have never stopped as they moved from one trouble spot to the next and continue to do so.
Soybean and corn basis at river terminals affected by the river closures as the dredges worked and dropping river levels, slashed their basis to the farmer. Shippers were facing higher barge freight, reduced drafts and smaller tow sizes from 36 to 25. In the end, the price to the farmer included all those extra costs and in turn, lower basis.
By the end of October, the National Weather Service reported that water levels on the Mississippi River at Memphis, Tennessee, broke its recent new record low of minus 10.75 feet reached at 7 p.m. Oct. 17, by reaching
minus 10.80 feet at 3 a.m. Oct. 22 and then at 5 a.m., it broke its new record, hitting minus 10.81 feet. The previous low record was minus 10.70 on July 10, 1988.
American Commercial Barge Line noted on its website in late October that, "The industry is incurring catastrophic impacts to boat capacity, which will in turn drastically decrease ton-mile productivity for the inland rivers."
By the end of November and after a few weeks of reprieve from extremely low water and barge groundings thanks to Tropical Storm Nicole, river levels fell again. Russell explained, "Bursts of precipitation will provide only temporary rises that flush through and fall again rather quickly. It is estimated the fix will require 40 to 60 days of 'normal' precipitation to provide full recovery. Rebalancing will be greatly assisted once river depths and widths improve to levels where tow sizes can return to usual 35-40 barges."
By the second week of December, tow sizes started to increase to 35 barges
as the Memphis gauge hit minus 2 feet or better. Barge drafts also increased at that time to 10 feet 6 inches and currently, as of Dec. 18, drafts on the Ohio went to 11 feet 6 inches and Cairo south went to 12 feet 6 inches, while on the Lower Mississippi, drafts also returned to normal -- for now.
ACBL said on its website on Dec. 16 that "River Levels have stabilized through the start of (December) on the Mississippi and Ohio River. While transit has improved in both of these regions, the Upper (Mississippi) above Cairo is forecasted to see an increase in restrictions due to deteriorating river conditions. The river in these areas will be impacted by low water and freezing temps. We will see declining temperatures on the Illinois River and Chicago area during the week of Dec. 18, increasing the risk for potential ice formations that will spur navigational concerns."
So, on top of the ever-changing water levels, we now have fog causing delays on top of icing, thanks to the extreme cold weather this Christmas week.
Link to Oct. 31 story with some history of the river at: https://www.dtnpf.com/…
Better days ahead? Albeit temporarily, but every day the river is open is a good day. Here are links to the water levels at St. Louis, Memphis and Cairo:
**
To see the other top stories of the year:
No. 10: "Farmland Values Smash Records in 2022, Undeterred by Interest Rate Hikes," https://www.dtnpf.com/…
No. 9: " Machinery Shortages Continued in 2022," https://www.dtnpf.com/…
No. 8: "Big Year for Ag in Supreme Court Cases on Prop 12, Clean Water Act, Roundup," https://www.dtnpf.com/…
"Revisiting the Year's Big Stories," https://www.dtnpf.com/…
You can find No. 6 in DTN's top 10 list on Dec. 23.
Mary Kennedy can be reached at mary.kennedy@dtn.com
Follow her on Twitter @MaryCKenn
(c) Copyright 2022 DTN, LLC. All rights reserved.