USDA Reports Review
USDA Reports Cause Grain, Soybean Markets to Continue to Plunge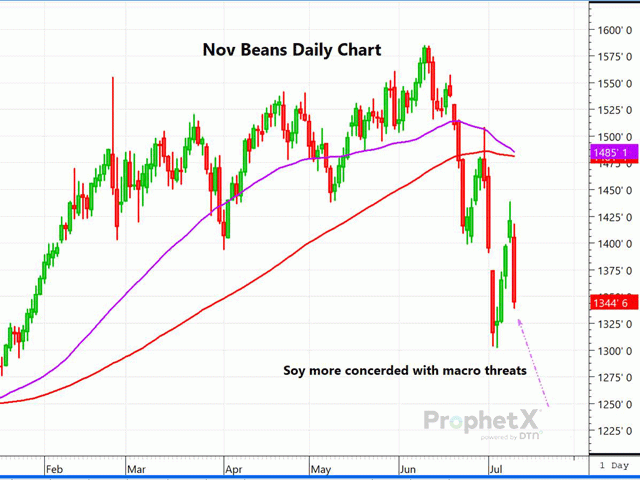 Already under severe selling pressure prior to the release of Tuesday's July 12 USDA reports, all three of the primary ag markets plunged even more following the reports. It seemed much more about outside, macro-market forces than grain and soy fundamentals. Even though the report was regarded as slightly bearish for corn, it was overall fairly neutral for wheat and soybeans. That did not seem to matter, as markets fell harder after the report. The nearly $9 plunge in crude oil futures, talk of recession and news that China's COVID-19 cases are once again rising, were all construed as demand destructive.
CORN
Corn feed and residual for the old-crop year of 2021-22 was reduced by 25 million bushels (mb), sending ending stocks for 2021-22 to a higher-than-expected 1.510 billion bushels. The Dow Jones trade estimate had been 1.491 billion bushels (bb), and June ending stocks were 1.485 bb. Beginning stocks for 2022-23 were 25 mb higher, and USDA used the June 30 estimate for increased planted acres of 89.9 million acres (ma). Harvested acres were 200,000 higher, at 81.9 ma, leading to crop production of 14.505 bb -- 45 mb higher than in June. There were no changes in usage, resulting in an ending stocks number that was 70 mb higher than June, at 1.470 bb. That figured to be about 37 mb above the average trade estimate and was construed as slightly bearish. Yield was left untouched, at 177 bushels per acre (bpa). The season average farm price was increased by a dime to $6.65 per bushel.
There were few significant changes to the world numbers. Corn production was lowered in both the European Union and in Russia, while Paraguay had a bit larger crop. The net effect was an increase in global ending corn stocks for 2022-23 to 313 million metric tons (12.3 bb) -- up 2.5 mmt from June and roughly 2.1 mmt higher than the average trade estimate. Both U.S. and world ending stocks figured to be slightly bearish for corn.
Prior to the release of the report, December corn was trading down 23 cents. December corn finished the day down 42 1/2 cents, closing at $5.86 1/2.
SOYBEANS
For soybeans, old-crop ending stocks were increased by 10 mb to 215 mb, as the trade expected. New-crop soybean production, using the June 30 planted acres of 88.3 ma and harvested acres of 87.5 ma -- leaving yield unchanged at 51.5 bpa -- was reported to be 4.5 bb, or down 140 mb from June. Soybean crush was reduced by 10 mb to account for lower meal exports, while soybean exports were cut by 65 mb to 2.135 bb. The net effect was a drop in 2022-23 ending stocks to just 230 mb -- down 50 mb but still a bit higher than the pre-report estimate of 214 mb. The season average price was lowered by 30 cents to $14.40 per bushel. Season average prices for soy meal and oil were lowered by $10 per ton and 1 cent per pound to $390 and 69 cents, respectively.
World changes in soybeans were minimal, with both Brazil and Argentine soy production left near unchanged (Argentine production was up 600,000 mt) and close to estimates, while soybean imports for China were decreased by 1 mmt to 99 mmt (3.64 bb). World soybean ending stocks were reduced to 99.6 mmt (3.7 bb) from 100.5 mmt, and just slightly higher than the trade estimate. WASDE did reduce China old-crop soybean imports by 2 mmt to 90 mmt (3.3 bb).
Prior to the release of the report, November soybeans were down 31 cents. November beans finished the day down 62 cents, closing at $13.43.
WHEAT
Old-crop wheat ending stocks came out at 660 mb -- up 5 mb from June and just a few million bushels above the estimate. All wheat production rose by 44 mb from June to 1.781 bb. While hard red winter production was about right on, soft red was 12 mb higher than the trade estimate, but it was mostly other spring and durum wheat that accounted for much of the change. Other spring, at 503 mb, was 54 mb above the trade estimate, and durum, at 77.2 mb, was more than 17 mb above the trade estimate. Wheat exports for 2022-23 were raised by 25 mb to 800 mb to account for the competitive price of U.S. wheat with the recent break. Ending stocks for 2022-23 rose by 12 mb to 639 mb. The season average price for wheat was lowered by 25 cents to $10.50 per bushel.
On the world front, production in Ukraine, the EU and Argentina fell, while Russia was up 500,000 mt to 81.5 mmt (2.99 bb), and Canada was raised by 1 mmt to 34 mmt (1.25 bb). U.S. wheat production rose by 1.2 mmt. Ukraine was lowered by 2 mmt to 19.5 mmt, and Argentine production fell by 500,000 mt to 19.5 mmt (716 mb). World ending stocks of wheat rose by 0.7 mmt from June, to 267.5 mmt (9.83 bb), but remained the lowest since the 2016-17 season. Of note was the fact that Indian wheat production was left unchanged, even with some analysts suggesting that it could be much lower.
Prior to the release of the report, Kansas City September wheat was down 17 cents. KC September finished the day down 47 1/2 cents, settling at $8.67 3/4.
FINAL THOUGHTS
Shortly after USDA's July reports were released, grain and soy traders seemed to go back to trading outside market influences. The early morning weakness turned into a rout of all three markets. Influencing trade was the new high in the U.S. Dollar Index, the sharp fall in crude oil, more talk of recession and China's potential for more COVID-19 lockdowns. It was more the combination of those factors that brought sellers back into the markets following a two-day correction.
Dana Mantini can be reached at dana.mantini@dtn.com
Follow Dana Mantini on Twitter @mantini_r
(c) Copyright 2022 DTN, LLC. All rights reserved.