Cameras Mounted on Irrigation Equipment Scout for Anomalies and Pests
Center Pivots Transform Into Scouts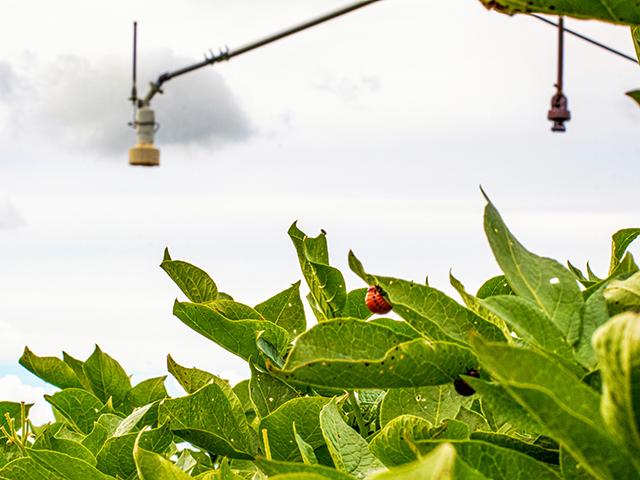 Growers in the Pacific Northwest were some of the first to take advantage of artificial intelligence-based (AI) crop-monitoring technology that promises to improve the efficiency of growing irrigated crops -- wherever they might be.
Over the past two seasons, several cooperators have worked with Valley Irrigation's Prospera Technologies as it unveiled Valley Insights, a suite of artificial intelligence-based crop-monitoring solutions. Each solution -- Irrigation Insights and Plant Insights -- provides timely push alerts of potential problems in fields under center-pivot irrigation.
These solutions underwent developmental testing in 2019 and were released on a limited-release basis in selected areas of Idaho, Nebraska, Texas and Washington in 2020. They are now being used by growers all around the world.
"Using proprietary artificial intelligence and computer-vision algorithms from Prospera, Irrigation Insights can pinpoint potential over- or underwatering situations, which can lead growers to clogged nozzles or system leaks, or anything that might reduce watering efficiency," says Troy Long, vice president of hardware products for Prospera. "A plugged nozzle on an outer center-pivot span can be a big deal in a high-value crop where irrigation water is the primary source of moisture."
Valley Irrigation and Prospera have also developed Plant Insights as part of the Valley Insights suite. Plant Insights also uses artificial intelligence, along with machine learning and computer vision, to analyze images taken from high-resolution pivot-mounted cameras. These cameras capture thousands of pictures with every pivot rotation, which are then analyzed by the AI engine to look for the presence of pests, diseases and weeds, turning the pivot into a "24/7" field scout.
POTENTIAL SAVINGS
Eric Williamson, of Williamson Farms, grows high-value vegetable and seed crops near Quincy, in Central Washington, where he depends almost totally on irrigation water. His farm included a test field for the 2019 trials of Irrigation Insights.
"That season, we had a pivot malfunction which caused it to reverse in the middle of the field, and part of that crop didn't get water for a week," he explains. "Had we had the service on that field, we'd have caught the problem early and could have saved our yields. We could have saved $25,000 if we'd have had an alert, and that would have more than paid for the service."
Williamson says he's used aerial and satellite imagery in the past but says those services required him to sort through the data himself. "This service does it for us and can catch problems before I do," he explains. "I just get a text message when the system identifies a problem area, and I can address it immediately."
A CLOSER LOOK
Greg Juul and Troy Betz operate G-2 Farming, in northeastern Oregon. They grow high-value potatoes and fresh onions, along with a rotation of alfalfa, grass seed and corn for seed. G-2 Farming was a test site for Plant Insights.
"I've always worked three to four days a week scouting," Juul explains, "but with Plant Insights and its pivot-mounted cameras running 22 to 30 hours at a time, we're now getting pictures from the fields I'd been checking every day. I'm amazed at what the cameras can record," he says.
The pivot-mounted cameras are capable of capturing submillimeter-resolution pictures. Prospera's AI and computer-vision algorithms analyze the pictures to identify the presence of pests and diseases at the leaf level. Juul says he could identify psyllids, leafhoppers, potato beetles, cutworms and loopers from his pivot-mounted cameras' images.
He says he can also accurately identify plant diseases such as blackleg and white mold. There is also enough resolution to tell the difference between early blight vs. late blight. He adds that information from a program such as Plant Insights can help growers save crop-protection expenses.
"If you get a pocket of insects or disease in a field, you can create a shape file on a field map and apply controls only to those areas associated with that file. You don't have to spray the entire field," Juul explains. "In addition to cutting the amount of chemical control needed, you save aerial application time -- which is expensive.
"It takes about two hours to apply protectants to a 125-acre circle," he continues. "But, if you have only a 5-acre pocket and maybe several others with similar problems, you could get the smaller zones sprayed in several fields in maybe 30 minutes."
Juul and Williamson agree they won't be giving up "boots on the ground" scouting anytime soon. However, they note that having targeted early warnings of problems, whether for irrigation issues or insect and disease outbreaks, will help them manage their time by sending them to correct the smaller problems before they become big problems.
ONGOING DEVELOPMENT
Daniel Koppel, Prospera CEO, says that by combining computer vision and artificial intelligence with the tech-enabled infrastructure of irrigation systems, traditional expenses of collecting actionable data are falling. That can add significantly to potential grower returns, as noted by Williamson and Juul.
Long says Insights was originally launched in the Pacific Northwest because of the high-value crops being grown there and the density of irrigation available to monitor with aerial overflights. Today, however, he says Insights also involves satellite imagery and is available globally.
**
FOR MORE INFORMATION
-- For more information about using the Insights applications and pricing, Prospera suggests contacting local Valley dealers or visiting the Prospera website at https://www.prospera.ag/…
[PF_0922]
(c) Copyright 2022 DTN, LLC. All rights reserved.