How to Save Bt
EPA Proposes New Bt Crop Regulation to Slow Insect Resistance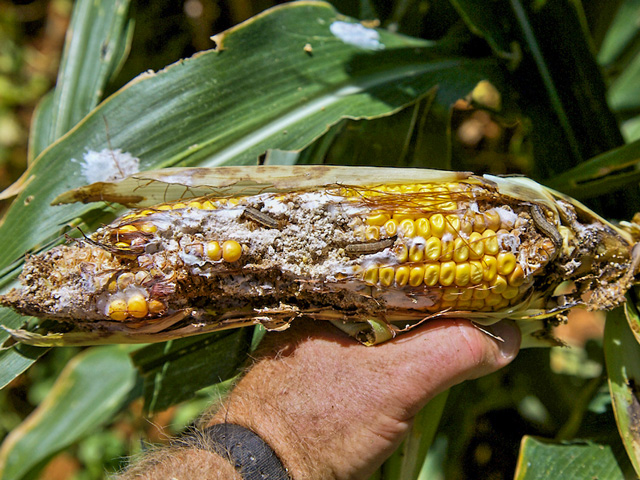 ROCKVILLE, Md (DTN) -- Big changes could be coming to Bt corn and cotton management in the years ahead, according to a newly released draft of proposed Bt regulations from EPA.
The agency released a document this week outlining steps it is considering taking to help the agricultural industry slow the spread of Bt resistance in lepidopteran pests such as corn earworm, fall armyworm and western bean cutworm.
The plan proposes phasing out certain Bt corn and cotton products and making changes to seed blends, or refuge-in-a-bag, corn products. It would also change how companies define resistance and respond to unexpected injury reports from farmers, as well as impose stricter penalties for those who don't comply with Bt block refuge requirements.
"Basically, this document lays out the lessons we've learned from 25 years of Bt use, and then says this is the new way to manage Bt crops, based on hard lessons in the past," said Pat Porter, an Extension entomologist with Texas A&M, whose work is cited in the proposed plan.
The document is only a proposal for now, up for 60 days of public comment. EPA is requesting input and feedback from farmers and other stakeholders before it finalizes its plan.
Here are five major ways the proposal could change Bt crop use for farmers.
1. GOT UNEXPECTED INJURY? EPA WANTS TO KNOW.
In the past, seed companies weren't required to report a Bt-resistant insect population to EPA or the public until they had run complicated laboratory tests to confirm that the insects survived ingesting Bt toxins. As a result, EPA and farmers were often not informed of Bt failures until the problem was fairly widespread within a field or even an entire region.
No more, the EPA draft proposal said.
Now EPA wants to know as soon as Bt corn or cotton fields experience certain levels of unexpected injury from insects such as corn earworm/bollworm, fall armyworm or western bean cutworm. For example, cotton growers would trigger a report if they saw 6% bollworm injury in Vip3A cotton varieties. Bt corn growers would trigger a report if they saw 10% of their Vip3A corn ears with injury from earworm or western bean cutworm.
These levels would be known as "practical resistance" and companies could go on to confirm or refute that with lab tests. But in the meantime, that injury will be reported to EPA, as well as local crop consultants and university scientists, and companies would be expected to initiate a mitigation process with the farmer, including assessing their field and coming up with a plan to manage the resistant pest population immediately.
And it wouldn't only be farmers watching and reporting practical resistance. EPA is also proposing that an industry group called the Agricultural Biotechnology Stewardship Technical Committee (ABSTC) create corn sentinel plots for these insects around the country, which will be monitored for unexpected injury, under the same guidelines.
"EPA is basically asking for a lot more transparency from seed companies," Porter said.
2. SOME BT CORN AND COTTON VARIETIES WOULD BE PHASED OUT
EPA is proposing phasing out single-Bt-toxin corn hybrids in the next three years. These include Herculex I hybrids, which only express Cry1F, and Yieldgard Corn Borer or Agrisure 3010 hybrids, which only express Cry1Ab.
Regular use of these hybrids is known to increase the risk of resistance, given that it repeatedly subjects insect populations to a single mode of action, Porter explained.
EPA is also proposing phasing out some Bt corn and cotton pyramids over the next five years, because one or more of the traits is so compromised by insect resistance that those pyramids are functionally single-toxin corn hybrids. Those products include some AcreMax, Intrasect, VT DoublePro and Powercore corn hybrids, as well as BollGard 2 and TwinLink cotton varieties.
The phase out would NOT affect other corn and cotton pyramids that contain Vip3A, such as Viptera, Leptra and Trecepta corn hybrids and BollGard 3, Widestrike 3 and TwinLink Plus cotton varieties.
3. REFUGE-IN-A-BAG (RIB) PRODUCTS COULD CHANGE
Many corn growers use refuge-in-a-bag (RIB) corn hybrids, also known as seed blends. With the required non-Bt refuge seeds mixed into the bag, they eliminate the need for Midwest growers to plant a separate block of non-Bt corn, known as a block refuge.
EPA's new proposal would also increase the blended refuge seeds in RIB products to 10% non-Bt seed, up from the current 5%.
Scientists such as Porter have raised alarms about the safety of using RIB corn for ear-feeding pests such as earworm, however. During the corn pollination process, Bt traits can often spread throughout a RIB field, even into the non-Bt corn hybrids. That means insects get exposed to a wide buffet of Bt toxins and very few pure non-Bt corn ears, which can speed the development of Bt resistance. (See more here: https://www.dtnpf.com/…)
The Science Advisory Panel that informed this EPA proposal recommended not selling RIB corn products in the South at all, given the higher insect pressure and the fact that Bt corn and cotton fields are often planted within the same region, thus increasing selection pressure on these Bt traits.
However, the new EPA proposal would permit RIB corn hybrids to be sold in the South, as long as growers are also still required to plant 20% block refuges of non-Bt corn.
4. NO BLOCK REFUGES? NO BT ACCESS
The agency's proposal lists some stark new penalties for block refuge compliance, including cutting off non-compliant farmers' and seed dealers' access to a company's Bt products faster than in the past.
For many Southern corn growers, who face higher pest pressure and the addition of Bt cotton in the landscape, planting separate 20% block refuges is still required for Bt corn use, even RIB products. These refuges produce a valuable product -- non-resistant insects that can mate with any resistant insect survivors of the Bt crop and keep resistance genes diluted in a population.
Farmers do not have a good history of refuge compliance, EPA noted in its proposal. Historically, industry surveys show that anywhere from 11% to 46% of corn growers did not plant their required block refuges between 2011 and 2016.
EPA wants this to change. The agency proposed the following new rules for seed companies selling Bt corn hybrids with refuge requirements:
-- Any sales of Bt corn hybrids that require a block refuge would be followed by a mandatory on-farm visit by the company to make sure the refuge is planted. Visits would be reported to EPA.
-- Farmers who disregard the refuge requirement in the Cotton Belt for one year are immediately banned from planting that company's Bt corn products for two years.
-- Seed companies must ensure that seed dealers get signed agreements from farmers, which establish these terms, and keep them for three years. Any dealers that don't get 95% of their customers to sign these agreements will lose access to a company's Bt products.
-- Seed companies must ensure elite corn hybrids are available in non-Bt products for refuge planting, so farmers aren't forced to plant less optimal hybrids in order to comply with refuge requirements.
5. EPA WANTS TO HEAR FROM YOU
At multiple points throughout its proposal, EPA explicitly requested feedback from farmers and other stakeholders on numbers 2 through 4 in this article: the phase-out of some corn and cotton products, changes to RIB products and the refuge compliance penalties.
"EPA is soliciting public comment on the[se] options ... but will not take a position on them until it has reviewed all stakeholder input," the agency's proposal stated.
Farmers and others have until November 9 to get their feedback and comments submitted to EPA.
You can read the full proposal and submit your comments here: https://beta.regulations.gov/….
Emily Unglesbee can be reached at Emily.unglesbee@dtn.com.
Follow her on Twitter @Emily_Unglesbee.
(c) Copyright 2020 DTN, LLC. All rights reserved.