Cash Market Moves
Icy Welcome for Arrival of First Saltie of 2022 Into Duluth-Superior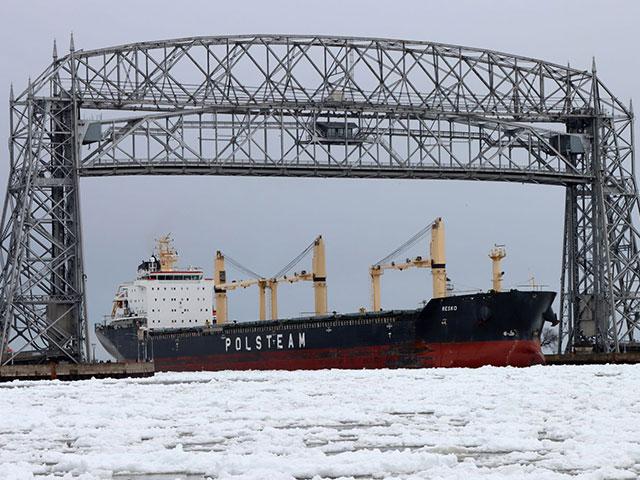 It was an icy welcome on April 13, 2022, for the first saltie, Resko, as it entered the Port of Duluth-Superior canal, pushing slowly through the stubborn ice. This official video from the Duluth canal camera shows how the tugs Arkansas and Missouri helped it navigate under the Duluth Aerial Lift Bridge into the harbor and over to the Gavilon Grain terminal in Connor's Point, Superior, Wisconsin, for its first load. https://www.youtube.com/…
The latest NOAA ice coverage map of the Great Lakes showed Lake Superior still had coverage of 10.75% the day the Resko arrived, with most of the ice along the shoreline. Temperatures have turned lower again in Duluth, with evening lows in the mid-20s, causing the ice to hang around and stack up as it moves to shore. It is a rare occasion for the first saltie of the season to have to struggle through ice in the canal. https://coastwatch.glerl.noaa.gov/…
"Despite winter's lingering chill this year, arrival of the season's first full Seaway transit is a true sign of spring and always of the prosperity these great ships help deliver to our region," said Deb DeLuca, executive director of the Duluth Seaway Port Authority, in a news release. "We're excited to see it and excited also to share its Midwestern wheat cargo with the world. It's another example of how Great Lakes-St. Lawrence Seaway shipping delivers the critical goods and raw materials of everyday life."
Resko, a 624-foot bulk carrier from the Polsteam fleet, will earn 2022 First Ship honors, after completing the season's first full transit of the St. Lawrence Seaway and heading to the Great Lakes' westernmost port, noted the news release. "By tradition, this first full transit marks the annual opening of the Duluth-Superior Harbor, although the interlake navigation season began with the Soo Locks' opening on March 25."
Gavilon Grain terminal, formerly known as Peavey Connors Point, can hold more than 8 million bushels of grain. Most typically, that includes spring wheat, winter wheat, durum wheat and sugar beet pulp pellets. "The Gavilon terminal moves approximately 15 million to 20 million bushels of grain annually and will load the Resko with approximately 16,200 short tons of spring wheat and 5,400 short tons of durum wheat destined for Italy," the news release stated.
The first saltie's arrival each season is a reminder that the Port of Duluth-Superior is Mid-America's gateway to the world. Located 2,342 miles inland from the Atlantic Ocean, Duluth-Superior is the Great Lakes' top tonnage port and is one of the nation's top 20. The port links North America's heartland to regional and overseas markets, enabling manufacturers and cargo owners to compete in the global marketplace.
The latest arrival of the port's first saltie, the Diana, was May 7, 2014, and the earliest arrival was the Federal Hunter on March 30, 2013.
Mary Kennedy can be reached at mary.kennedy@dtn.com
Follow her on Twitter @MaryCKenn
(c) Copyright 2022 DTN, LLC. All rights reserved.