Todd's Take
Safe Passage for Wheat? Who Does Russia Think They're Fooling?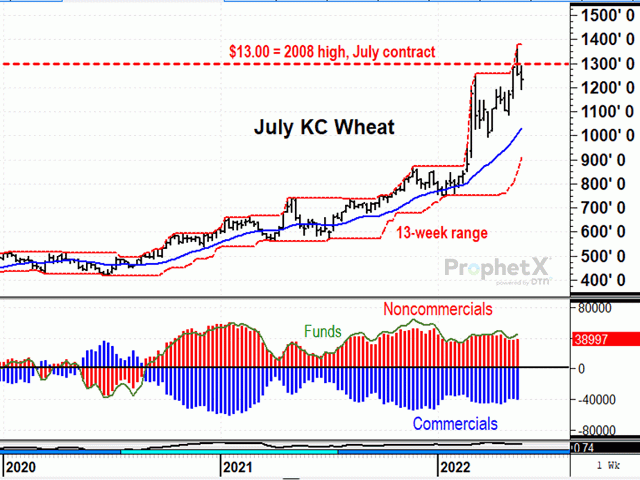 Early Wednesday morning, May 25, as I was writing Early Word Grain comments for DTN subscribers, July KC wheat was trading over 30 cents lower and I was struggling, trying to understand why wheat prices were sharply lower for the second time this week. The world's stock markets were quiet overnight and outside markets were generally uneventful.
Knowing world wheat supplies are already tight and are likely to get even tighter in 2022-23, I had to go with what I knew at the time and concluded the morning's comments, "With U.S. HRW wheat production limited by drought, spring wheat planting still in jeopardy of not achieving its full potential and Ukraine under constant attack from Russia, it is difficult to see much bearish potential in the recent sell-off of wheat prices."
Shortly after DTN posted the comments, more news appeared to explain Wednesday morning's selling in wheat. According to several media sources, including Dow Jones, Russia's Deputy Foreign Minister Andrey Rudenko told reporters Russia would be willing to allow for safe passage of ships carrying food from Ukraine's ports in return for lifting sanctions.
Russian statements since have sometimes neglected to mention the part about requiring the lifting of sanctions, but it would be the only reason for them to consider the move and makes the whole proposal highly unlikely.
My first thought was, that's it? You have to be kidding. How can anyone take Russia's offer seriously?
I seem to recall it was Russia's President Vladimir Putin who told French President Emmanuel Macron in early February that he (Putin) would not escalate the crisis. Near the same time, a Kremlin official, Yuri Ushakov, described U.S. warnings of an impending Russian invasion as absurd, creating a backdrop of hysteria.
"Hysteria" has also been a favorite word of Russian Foreign Minister Sergei Lavrov, using the word to disregard numerous war crimes documented by Human Rights Watch and others in parts of Ukraine, previously occupied by Russian forces.
For a full display of Russia's humanitarian concerns, I recommend looking at recent photos of Mariupol, widely found across the internet. Once a beautiful port city in southern Ukraine, the city is now reduced to rubble. Notice how Russia had no qualms about bombing any civilian areas. Schools, hospitals, maternity wards, historic sites and beautiful architecture were all destroyed for the simple crime of being in Russia's way.
Perhaps wheat traders forgot the incident just a month ago when U.N. Secretary-General Antonio Guterres came away from a meeting with Putin, claiming an agreement "in principle" that was to allow Ukrainian civilians to be safely evacuated from Mariupol. Two days later, the Russian military attacked the Ukrainian capital of Kyiv, coming close to hitting the hotel where U.N. Secretary-General Antonio Guterres was staying.
Since the invasion began, Russia has shown no reluctance to destroy grain storage facilities, threaten and coerce farmers and starve captive civilians, including children. Even in western Ukraine, Russia has attacked railways, bridges and fuel depots -- important infrastructure Ukraine needs to move grain. Russia missile attacks have included Odessa, one of Ukraine's most important ports, and has blocked access to the Black Sea with mines and warships.
To hear that wheat prices would sell off, even temporarily, on the word of another soulless Russian official simply makes no sense. As I pointed out last week, speculators en masse are weak, fearful creatures, easily spooked and apparently willing to believe anything Russian officials say. Sadly, this is also a part of understanding markets.
I can't say for sure that the May 17 high in July KC wheat isn't the top of the move in prices, but I will continue to say that world wheat supplies are at their tightest levels in eight years and are likely to get tighter in 2022.
Not only is Russia's unrelenting war a significant obstacle to the world's production and distribution of grain, it is also a frustrating source of many related problems, such as high fuel and fertilizer prices, and this is happening at a time when North America and other wheat regions are encountering adverse weather. Despite this week's selling in wheat, it continues to be difficult to see much potential for significantly lower prices in 2022.
And I don't care what any Russian official says.
If you haven't read it already, I recommend, "Global Wheat Production Challenged Everywhere It Grows ..." by DTN Farm Business Editor Katie Micik Dehlinger, at https://www.dtnpf.com/….
**
Comments above are for educational purposes only and are not meant as specific trade recommendations. The buying and selling of grain or grain futures or options involve substantial risk and are not suitable for everyone.
Todd Hultman can be reached at Todd.Hultman@dtn.com
Follow him on Twitter @ToddHultman1
(c) Copyright 2022 DTN, LLC. All rights reserved.