Waterjets Used to Manage Crop Residue
Ultra-High-Pressure Waterjets Used to Manage Crop Residue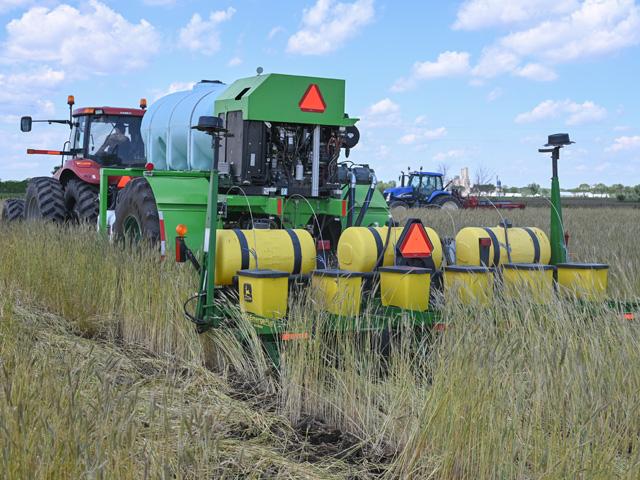 BELMOND, Iowa (DTN) -- Planting in high-residue, no-till fields can be a challenge for Josh Nelson.
The trash whippers and disc openers on his no-till planter don't always move and cut all the crop residue, including decaying cover crops. Occasionally, some residue gets pinched and pushed into the seed furrow, which can cause germination issues and less-than-ideal stands.
Hair-pinning residue wasn't an issue for Nelson as he seeded soybeans on June 9 into a field filled with corn stover and waist-high, partially green cereal rye that was recently terminated. The planter the Belmond, Iowa, farmer used had ultra-high-pressure waterjets just in front of the disc openers that shot out a fine stream of water at Mach 3 (more than 2,200 miles per hour). The water sliced through all the residue, including corn cobs, like a hot knife through butter.
"The Susterre planter really handled this heavy residue well," Nelson said. Susterre is a Canadian company that is pioneering the use of industrial waterjets that cut metal for row-crop agriculture. The company is developing the technology and equipment, which includes planter attachments and a power cart, with the goal of furthering adoption of regenerative farming practices by helping farmers that do so be more productive.
"I was impressed with how well it (waterjets) works," Nelson said, referring to clearing a path for the disc openers to create a clean furrow. "I can definitely see the merits of using high-pressure water."
PUTTING WATERJETS TO THE TEST
Nelson is one of six farmers in Iowa, Tennessee, Kansas and Ontario, Canada, working with Susterre. Each producer provided 5 acres of land for side-by-side planting trials to compare the farmer's existing planter and technology to a planter Susterre purchased and modified with waterjets.
Nelson embraces cover crops and no-till to prevent erosion, build soil health and curb water pollution from nutrient runoff. He said partnering with the company was an easy decision.
"I think it's really important to not be settled in with your practices and try something new," Nelson continued. "That's the only way that we can really move the needle on some of these (conservation) practices."
Josh Nelson's uncle, Dave Nelson, seeded soybeans with a 12-row Case-IH 1200 planter with spiked trash whippers that clear residue in front of the disc openers. Josh Nelson planted with a six-row John Deere 1750 MaxEmerge Plus outfitted with waterjets, which take the place of coulters or trash whippers/cleaners. Susterre is using the same John Deere planter in all the planting trials.
As both planters worked, Susterre Founder and CEO Mike Cully examined seed furrows and how each planter cut residue. He also used a penetrometer to check for soil compaction. He said the waterjets worked as expected, often holding up cereal rye and corn cobs that were cleanly sliced by the laser-like water streams.
"We will see if (the Susterre planting system) effects compaction, if there's soil throw or smearing in the field and agronomic benefits," Cully said, noting initial evidence points to the superiority of high-powered waterjets in high-residue conditions. "We want to see if this carries through to the end of the season when it comes to yield."
Trial data will be analyzed and released after harvest.
PLANTER INNOVATION
Susterre, founded in 2020, purchased ultra-high-pressure waterjet technology from another company that was trying to adapt it for agriculture. Several planter attachment prototypes using the technology were made by the previous owner that worked, but none were commercialized.
Cully's company continued development of the technology. After raising about $2 million in working capital in early 2022, Susterre engineers successfully built six planter attachments, which can be bolted on to any planter toolbar, that are being tested this year. An attachment, located in front of a disc opener, consists of a composite wedge to part residue, a shoe that lays residue flat and a waterjet.
A power cart was built by Susterre. It contains a 1,600-gallon fluid tank, though a smaller tank could be used. A 12-row planter with 30-inch spacing uses 10 gallons of water per acre. The cart has a 300-horsepower diesel engine that powers fluid intensifiers that pressurize the system at 60,000 pounds per square inch. Each waterjet attachment requires 12.5 horsepower. A 24-row planter is the largest Susterre can retrofit.
"With this technology, because it can handle and cut through residue so easily, we can keep farmers no-tilling and planting cover crops for a much longer period of time." said Cully, noting that farmers are forced to till, at times, to better manage heavy residue.
"Waterjets also cut very well in damp conditions," the former AGCO executive continued. "Farmers can be out planting if the ground is fit for equipment, and they don't have to wait for residue to dry. That could give them an extra hour or more per day to plant."
Water isn't the only fluid that can be used in the system, Cully said. Other fluids such as liquid fertilizer can be used. After cutting residue, the fertilizer is injected about 3 to 4 inches deep where a growing plant can easily utilize it.
"We're enhancing the use of planters," he said.
FOR SALE
Farmers will likely be able to order a power cart and planter attachments toward the end of this year, according to Cully. On average, he said, it will cost about $250,000 for a power cart and to retrofit a planter.
The cost could be significantly less, Cully said, if a farmer retrofits a smaller planter -- 12 rows or less -- and has the right equipment on hand to eliminate the need for a power cart. This includes a tractor with saddle tanks to hold the cutting fluid and enough horsepower to run all the equipment.
"We're working to reduce the cost given current supply chain issues. This could include buying different parts from different suppliers," Cully said. Farmer feedback may also influence future product changes.
Josh Nelson was initially impressed with the waterjet technology, but he's concerned about the cost.
"We are looking for new ways and technology to help us become more regenerative and sustainable," he continued. "Even in an era of $7 (per bushel) corn, the big concern I have whenever somebody brings me something new is the cost and the ROI (return on investment)."
Susterre estimates that waterjet technology reduces operating costs by about 13%. For more information, go to https://susterre.com/…. Cully claimed the system will pay for itself in two cropping seasons.
Watch a video of the Susterre planting trial here: https://www.dtnpf.com/….
Matthew Wilde can be reached at matt.wilde@dtn.com
Follow him on Twitter @progressivwilde
(c) Copyright 2022 DTN, LLC. All rights reserved.