CNH Tech, Fuels Goals
CNH Reveals Technology, Alternate Fuels Goals for Case IH, New Holland Equipment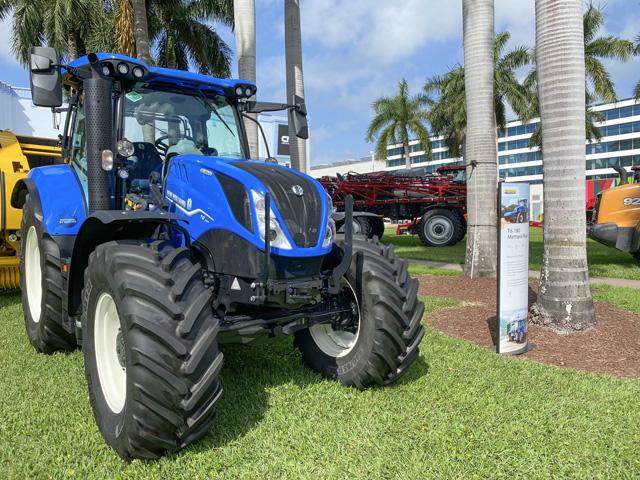 MIAMI (DTN) -- CNH Industrial held its Capital Markets Day on Tuesday. The event brought investors, market analysts and journalists from around the world to Miami. During the day-long event, DTN/Progressive Farmer had access to CNH CEO Scott Wine.
Wine offered product, technology and alternative-propulsion insights into CNH. He told his audience CNH expects net sales to be up 10% to 14% this year.
Wine spoke about CNH's $2.2 billion purchase of tech-leader Raven Industries. Raven is rapidly bringing its culture for innovation into CNH processes, he said. Wine says Raven-CNH will deliver a new sprayer to the market this year.
Parts and materials will be an ongoing issue for CNH. Wine says semi-conductors will be of particular concern for the rest of this year. But, he added, the manufacturer is finding ways to adjust to the shortages.
Wine also discussed alternative-propulsion sources -- specifically alternative fuels and electrification. New Holland is currently building a methane-powered tractor. Launched first in Europe, the T6 180 will be available for order in the U.S. this fall.
CNH is a player in electrification. Its first efforts produced the e-Source generator system last year. Powered by the tractor's PTO, e-Source powers e-Implements, those available now, and more to come. CNH revealed that it is developing a new generation hybrid tractor. CNH also expects to produce a battery electric vehicle (BEV) soon. The initial BEV will be a small tractor, with an eventual expansion of the technology across CNH's product range.
CNH's investment in California-based electric tractor manufacturer Monarch Tractor will be an important driver in its electrification efforts.
Following is compilation of comments Wine made at CNH Capital Markets Day before investors and the media.
GREAT IRON
"One of the things I've done is spend time talking to our dealers and customers. And what I regularly heard was that we deliver great iron. But they (often) said in the next sentence 'We wish that you can be great with technology.' With the ($2.2 billion acquisition of Raven Industries), we don't become great right away, but it puts us on a path to greatness. What we talk about is this idea of marrying great iron with great technology. It's our investment in (electric tractor manufacturer Monarch Tractor), it's our partnerships with Trimble ... with Raven at the core."
CHALLENGES
"Labor is so difficult to find. Interest rates not going to be helpful. The semiconductor problem is not going away. We'll battle through that this year, but (it will) probably get better in '23. But it's a challenge. And, certainly, in the regulatory environment. Sometimes it's our friend. And often it's not. We're going to see ups and downs through the next three years."
STRATEGIC PRIORITIES
"(There are) five strategic priorities that I believe if we execute well, and we will, that can make this company better for our customers, better for our dealers, better for our investors, and better for employees. First (and second) are ... innovation (and) technology leadership. You saw the $2.2 billion check we wrote to bring in Raven. Our commitment (is) to being a leader in technology. We need to enhance the relationships with the dealers. We're working towards operational excellence. I think we all know the value of just being better fundamentally, being fundamentally sound. And, ultimately, sustainability and stewardship are key."
MONARCH TRACTOR INVESTMENT
"The nice thing about Monarch is it's almost plug and play. They've got an electronic drive train, a drive-by-wire capability. They've got a lot of stuff that we can bring to bear and give our farm customers a better solution. And that's what we're trying to do."
RAVEN CULTURE
"They're telling us how to do things better. They have figured out autonomy; they have (many) precision offerings. We've been mostly using external sources to do this. They're bringing (to us an experience) of 'This is how you do it.'"
MARRYING IRON WITH TECHNOLOGY
"You have to start (early in product development); it is not an afterthought. It has to be integrated from the time we start designing a vehicle. That change in thinking is allowing us to provide better solutions for our customers, which is the goal. We're giving Raven access. And they're kind of like kids in a candy store, because they can start early and make sure they get product design absolutely right, which saves us money, but also gives better value to the customer."
BATTERY POWER
"Hydraulics can be messy. Electrification of attachments is really a better solution. E-Source will be our way of providing that. It can be used to power attachments. That (is) the beginning. Over time, batteries will get to the point where it can be used for full electrification, especially on the lower-horsepower side."
SEMI-CONDUCTOR AVAILABILITY
"It's a core competency now about how we manage it and how we manage it evolved. Initially, we could buy it off the broker market. And then the broker market dried up about last September. (But) we were going to have a semiconductor shortage even if there hadn't been a pandemic. You just have this situation where supply far outstrips demand. (And chip manufacturers) are going to focus on the newest chips. (Agriculture) doesn't need the latest chips. We can use older chips. Well, guess what they want to stop making as soon as they can -- cheaper, older chips. So now, to keep our factories running, we rewrite software, change the wiring harnesses to get that done. I'm really proud of what the team's done to figure out how to work through this. It's not getting easier yet. But we see a plan as more capacity comes online."
CASE IH AND NEW HOLLAND COMPETITION
"There might be opportunities for (combinations). It's more on a case-by-case basis. We're not mandating anything, (but) we're looking for efficiencies. We are trying to be more engaged with each of our dealers."
Dan Miller can be reached at dan.miller@dtn.com
Follow him on Twitter @DMillerPF
(c) Copyright 2022 DTN, LLC. All rights reserved.