Canada Markets
Increased Corn Demand a Possibility for Ontario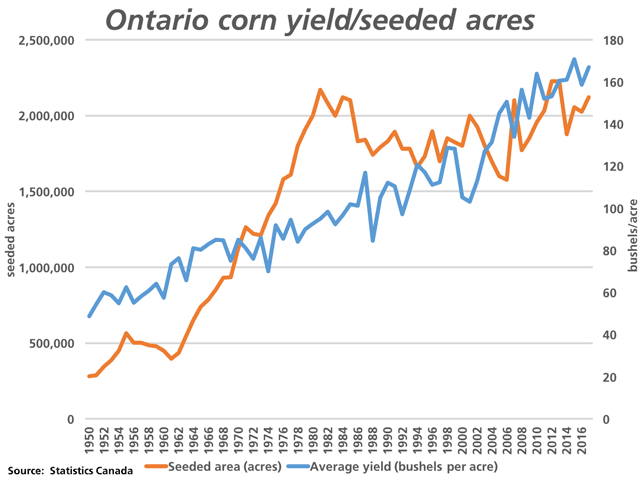 DTN Contributing Analyst Elaine Kub recently posted a piece titled 2018: Time for Ag Commodity Demand, which looks at trends in per capita demand for various commodities such as meat, poultry, wheat and corn. Elaine reveals trends in per-capita consumption statistics with hopes that similar consumer behavior at a global level will lead to increased demand for commodities and ultimately, improved prices. As they say, low prices cures low prices.
In the commodity world, demand is everything. In a piece written for the Ontario Grain Farmer Magazine, author Phillip Shaw, also a regular DTN contributor, closed by stating, "A challenge for the Ontario corn complex at the same time would be to create even greater domestic demand for corn akin to the very successful Ontario ethanol sector." A challenge indeed, given recent provincial government plans revealed to increase the corn ethanol blend in Canada's most populated province.
Imagine the optimism faced by the agriculture industry in Ontario, where government has introduced legislation to double the blending rate of ethanol into the province's gasoline supply from 5% to 10% by 2020. This move is currently proposed by the provincial government, with hopes that it will become law by spring.
One company is already underway with a $120 million project to double output to be completed in late 2018. With the Government of Canada already behind the pace needed to meet its 2020 greenhouse gas reduction goal, the timing could not be better. Jim Grey, CEO of IGPC, an Ontario ethanol producer, told Ontario Grain Farmer Magazine, "Ethanol is one of the many tools that can be used to meet government targets for GHG reductions in the transportation sector," while going on to say, "Not many industries can say they will stimulate economic activity while fighting climate change."

P[L1] D[0x0] M[300x250] OOP[F] ADUNIT[] T[]

It is suggested that the increased demand will require an additional 500 million liters should this become law. It might be difficult to predict just how market forces would play out at present. One immediate response seen on Twitter was a suggested increase in U.S. corn imports. U.S. ethanol exporters may also be looking at this as an opportunity to increase movement, while Ontario grain farmers will be readily up to the challenge of expanding production.
It will be enhanced yields, not increased acres, that will allow this demand to be met. As seen on the attached graphic, estimated seeded acres in the province was 2.12 million acres in 2017, close to the 2.225-million acre estimate reported for 2012 and 2013, as indicated in Statistics Canada data. At the same time, 2017 acres were slightly below the area planted in 1981.
Average yield, on the other hand, has trended higher since the earliest Statistics Canada data. The 167 bushel per acre average for 2017 was below the record 170.6 bpa estimated in 2015, but is well above the 161 bpa five-year average and 155-bpa 10-year average. The 20-year linear trend created by Excel (not shown) would suggest that yield will continue to grow by roughly 3 bpa/year.
**
DTN 360 Poll
This week's question asks what you think was the biggest story in Canadian agriculture in 2017. You can weigh in with your thoughts on this poll, which is found at the lower right side of your DTN Canada Home Page.
Cliff Jamieson can be reached at cliff.jamieson@dtn.com
Follow Cliff Jamieson on Twitter @CliffJamieson
(ES)
© Copyright 2018 DTN/The Progressive Farmer. All rights reserved.