Canada Markets
India's 50% Tariff on Peas One of Many Actions Taken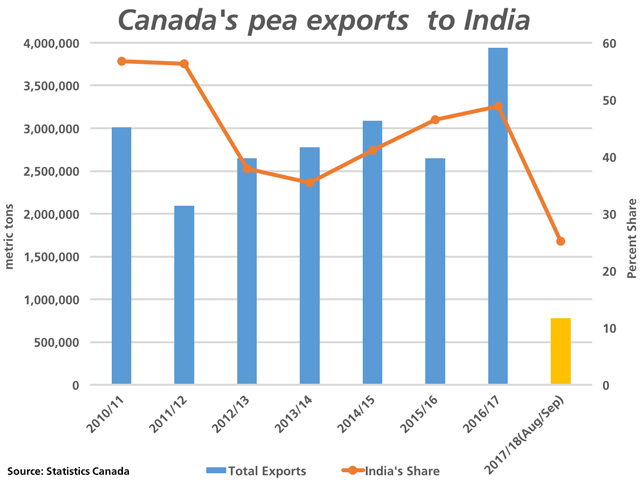 Prairie producers answered the call to meet a growing demand for pulses in India over recent years, given production shortfalls in that country, reaching record total exports of 3.94 million metric tons in 2016/17 with India taking 48.9% of the total volume, according to Statistics Canada data. Total dry pea exports have increased in four of the past five years while the share of total exports shipped to India has grown in each of the past three years.
This expansion may be set to hit a brick wall as the country deals with ongoing policy decisions that are viewed to hit the domestic industry for many commodities hard. As reported by the Hindu BusinessLine, "The farm crisis is worsening by the year" said Devinder Sharma, farm policy expert. "Earlier the debate was on low productivity and lack of improved technologies/varieties; but now, the focus is seen shifting to the income security of the farmers."
A number of initiatives have been undertaken, which points to a determination to address these issues as they relate to pulses, including:
-- A tariff on feed pea imports has been announced at 50%.
-- Non-tariff barriers such as the fumigation requirements that are being challenged by a group of World Trade Organization trading nations.

P[L1] D[0x0] M[300x250] OOP[F] ADUNIT[] T[]

-- The country announced on Thursday it will permit the export of surplus "all types of pulses" that is viewed to create additional opportunities for producers.
-- The country's consumer affairs department is looking to pass a bill this week that will provide free pulses for various nutritional programs. "The government are still sitting on about 17 lakh tonnes (1.7 million metric tons) and these have to be disposed of before they become unusable," an official told the Times of India.
-- Regional governments are requesting that the government step up to purchase pulses at the minimum support price (MSP) to encourage planting of pulses in non-traditional areas.
Whether the country gets farm policy right will be a subject of ongoing debate, while exporters may be forced to wait for opportunity to strike again.
Also of interest, Bloomberg reports this week that the U.S. Geological Survey has released updated maps that increases the global cropland acreage by 15% to 20% from previous estimates to 4.62 billion acres, correcting previous inaccurate maps while adding previously unmapped areas. This shift results in India jumping into first place with 444.3 million acres of cropland, while one Indian government source reported just 388.8 million acres of agriculture land as recently as 2015.
**
DTN 360 Poll
Canada's federal government has backtracked on proposed tax reform measures pertaining to farm corporations. Are you satisfied with what you are hearing? Share your thoughts on this week's poll that is found at the lower right side of the DTN Canada Home Page.
We thank you for you input!
Cliff Jamieson can be reached at cliff.jamieson@dtn.com
Follow Cliff Jamieson on Twitter @CliffJamieson
(ES/)
© Copyright 2017 DTN/The Progressive Farmer. All rights reserved.