Canada Markets
Canada-U.S. Spring Wheat and Durum Plantings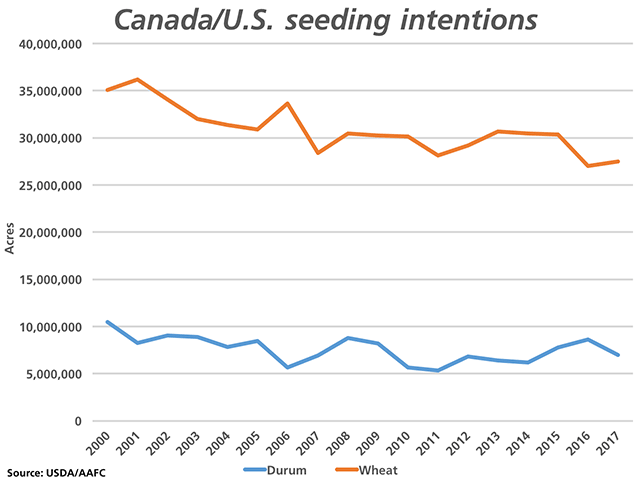 DTN reports this week certainly focused on the March 1 quarterly stocks report released today as the most important of the two reports released by the USDA on Friday, which also includes the Prospective Plantings report. As we move forward, weather will play a significant role in determining actual acres seeded, and as Senior Analyst Darin Newsom suggested in today's webinar "there is a lot of weather, or a lot of water to go under the bridge" prior to the end of spring seeding.
Today's stocks report remains troublesome for United States wheat, with March 1 stocks slightly higher than expected in pre-report estimates, while 20.6% higher than the same date last year. While overall demand for the first three quarters of the U.S. crop year is reported at the highest level in three-years, the latest USDA supply and demand numbers point to 2016/17 ending stocks of roughly 50% of annual use, with the carryover to weigh heavily on next year's prices.
The U.S. all-wheat seeded acre estimate at 46.1 million acres is down approximately 4.1 million acres, or 8.2%, from 2016, reportedly the lowest in over 100 years. The expected dip in U.S. spring wheat acres will be offset by an expected increase in Canadian acres for a potentially larger spring crop seeded between the two countries, as seen on the attached chart.
U.S. growers are expected to reduce acres of spring wheat by 305,000 acres, or 2.6%, to 11.3 million, which is close to pre-report expectations. At the same time, the earliest indications from Agriculture and Agri-Food Canada suggest that spring wheat acres will increase by 764,140 acres, or 5%, to 16.2 million acres. Combined, the two countries could seed 27.5 million acres of spring wheat, 467,000 acres or 1.7% more than 2016. This compares to the 10-year average of the two countries combined at 29.5 million acres.

P[L1] D[0x0] M[300x250] OOP[F] ADUNIT[] T[]

Producers in both countries are expected to reduce acres seeded to durum, as seen by the diverging blue line on the attached chart. U.S. growers are expected to trim their acres seeded to durum by 412,000 acres while early estimates in Canada point to an expected 1.2 million acre reduction. Combined, acres are expected to fall by 1.6 million acres or 19% to 6.970 million acres, only slightly lower than the 10-year average.
Statistics Canada will release Canada's official seeding intentions report based on producer surveys on April 21.
**
DTN 360 Poll
This week's poll asks whether you think that governments should play a role in regulating producer's canola rotations in order to control disease, as has been recently suggested by an industry representative in the media. You can weigh in with your thoughts on this week's poll, which is found, at the lower right of your DTN Homepage.
Cliff Jamieson can be reached at cliff.jamieson@dtn.com
Follow Cliff Jamieson on Twitter @CliffJamieson
(ES)
© Copyright 2017 DTN/The Progressive Farmer. All rights reserved.