Canada Markets
Did China Blink on Canola Foreign Material Tolerances?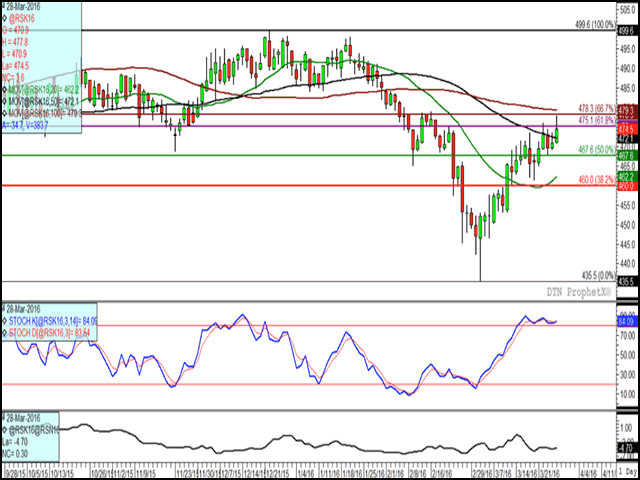 China has delayed its decision to require foreign material imports in canola to fall within a 1% tolerance as of April 1, from the current tolerance which ranges from 2 to 2 1/2%, according to a report on Producer.com.
With negotiations ongoing, China is leaning towards a delay on this decision, with industry sources suggesting this tightened standard may be in place as early as July and as late as September, stated the story.
This announcement comes at a time when canola is also seeing solid support from moves in competing oilseed markets. The continuous active crude palm oil future in Malaysia formed a bullish gap higher in Monday's trade on the June contract, with the market continuing to face prospects of production declines based on the current El Nino event. Monday's high is the highest level reached in just over two years. March trade saw this market break long-term retracement resistance during the month, although the market is deep in overbought territory and could result in a sudden change in direction.
Soybean oil futures closed higher Monday for the first time in three sessions, although the May contract has failed to test last week's high, which reached a nine-month high on the continuous active chart. Investors remain bullish this market, with the latest CFTC data showing noncommercial traders boosting their net-long futures position by 22% as of the week ending March 22, the largest net-long position held in data going back to 1987.
Canola closed higher today after a three-day holiday weekend, with the nearby May contract gaining $3.60/mt to close at $474.50/mt as nervous investors covered short positions. Today's high marks the highest level reached since China first announced the new foreign material tolerance Feb. 22. Today's close also marked the first close above the contract's 50-day moving average since Jan. 27, although failed to hold above retracement resistance at $475.10/mt, the 61.8% retracement of the move from the December high to the March low.

P[L1] D[0x0] M[300x250] OOP[F] ADUNIT[] T[]

As indicated on the lower study, the May-over-July spread narrowed modestly to minus $4.70/mt Monday, with commercial traders reflecting a neutral sentiment given current cost-of-carry calculations. At the same time, track Vancouver basis was reported to narrow $3/mt Monday to $33/mt over the May future, the strongest basis seen since Sept. 24 and a positive sign of commercial demand.
Without the immediate threat of the change in foreign material tolerance by China, canola's seasonal tendencies may play an increased role in determining canola's price direction in the coming months. Last week's close of $470.90/mt on the May chart is the highest close seen in eight weeks on the continuous chart, while DTN's five-Year Seasonal Index chart would indicate that prices tend to move higher for eight more weeks.
Resistance remains at $475.10/mt, the 61.8% retracement level of the discussed downtrend, $478.30/mt, the 66.7% retracement level, $479.30/mt, the contract's 100-day moving average as well as psychological resistance at $480/mt.
Open interest in the May contract was reported at 107,544 contracts Thursday, slightly higher than reported during the same day on 2015 and close to 18% higher than the five-year average.
A recent USDA attaché report indicates that elimination of price supports for growing rapeseed in China will lead to a 4% drop in that country's production to 13.5 mmt in 2016/17, down from an estimated 14.3 mmt in 2015/16 and China's official 2014/15 estimate of 14.77 mmt. This decline is expected to lead to an increase in imports into China in 2016/17 to 4.5 mmt, up from an estimated 4.2 mmt this crop year and the record of 5.04 mmt in 2013/14.
Current USDA estimates released in March show global canola/rapeseed ending stocks at just 4.515 mmt for 2015/16, down 34% from the previous crop year and just 6.5% of annual demand. Combined with the reality of dryness on the Prairies as we near spring seeding, Canada's bargaining position could further strengthen over time.
**
DTN 360 Poll
This week's poll asks what you think about the recent release of the final report released by the Canadian Transportation Agency review panel. You can weigh in with your thoughts on this week's poll, found at the lower-right of your DTN Home Page. We thank you for your input.
Cliff Jamieson can be reached at cliff.jamieson@dtn.com
Follow Cliff Jamieson on Twitter @CliffJamieson
(ES)
© Copyright 2016 DTN/The Progressive Farmer. All rights reserved.