Battle Over Sage Grouse Plan
Sportsmen See Bad Precedent in Reopening Compromise to Protect Western Range Bird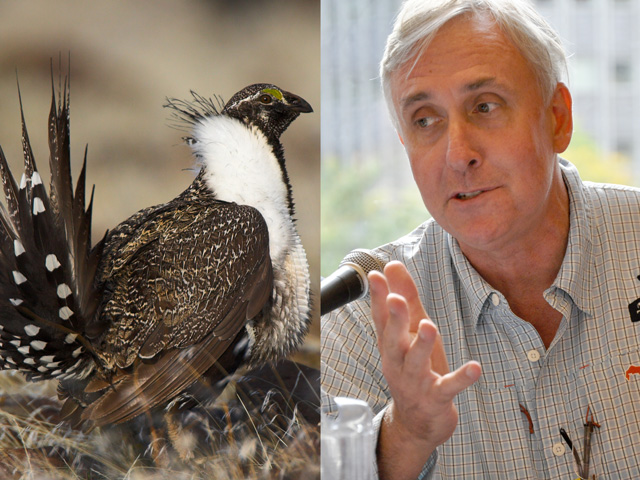 PITTSBURGH, Pa., (DTN) -- Leaders for sportsmen's and conservation groups in Western states are becoming more critical over the Trump administration's decision last week to reopen a protection agreement for the greater sage grouse in 11 states.
After months of internal discussions, the Department of Interior's Bureau of Land Management (BLM) announced last week it would reopen public comments on 98 greater sage grouse land-management plans across the West. BLM cited the need to respond to a U.S. District Court decision last March out of Nevada in which a federal judge ruled BLM violated the National Environmental Policy Act of 1969 by failing to prepare a supplemental Environmental Impact Statement on the sage grouse land management plans in Nevada. The court case stemmed from a pair of counties and a mining firm fearful of mining restrictions because of the sage grouse compromise.
The decision comes after BLM also canceled 10 million acres of proposed sagebrush protection for the grouse in Idaho, Montana, Nevada, Oregon, Utah and Wyoming, opening up those lands for energy development.
There are roughly 500,000 greater sage grouse that live in a range of about 70 million acres stretching from California to the Dakotas. Federal courts had ordered the Department of Interior to determine whether the sage grouse required listings or not. The sage grouse plan came after years of talks between states, the Obama administration and industry stakeholders to avoid listing the peculiar chicken of the prairie on the Endangered Species Act list. Listing the bird would eventually translate into greater mandates and restrictions on land use.
Mining interests sued after the deal was struck in 2015, claiming the agreement was too restrictive while environmental groups also sued, claiming the Obama administration didn't do enough to protect the quirky bird known for its extravagant mating dance.
BLM is considering amending some or all of the BLM land-use plans that were drafted in 2014 and 2015 regarding greater sage grouse conservation in California, Colorado, Idaho, Montana, Nevada, North Dakota, Oregon, South Dakota, Utah and Wyoming. The federal notice opened up a 45-day comment period for anyone to propose changes to the sage-grouse plan. https://goo.gl/…
Whit Fosburgh, president and CEO of the Theodore Roosevelt Conservation Partnership, spoke about Interior's sage-grouse decision over the weekend at the Society of Environmental Journalists conference in Pittsburgh, Pennsylvania. The sage grouse conservation plan is "a well-thought-out, well-reasoned sort of compromise between lots of interest groups," Fosburgh said. The review could threaten that, he said.

P[L1] D[0x0] M[300x250] OOP[F] ADUNIT[] T[]

"We're concerned about what this means in the future about any sort of collaboration on the Endangered Species Act," Fosburgh said. "Why would anybody go through the time -- 10 years of getting together and working out an agreement like this -- just to have it scuttled by the next administration for political reasons?"
Interior Secretary Ryan Zinke said last summer the review was needed because of western state "anger" about the sage-grouse plan. Still, Wyoming Gov. Matt Mead, a Republican, issued a statement noting the agreement was important to his state, home to more than 40% of the sage grouse population.
"We're roughly two years into having sage-grouse not listed under the Endangered Species Act. This is a good thing for the bird and energy development," Mead said. "As BLM looks to make changes to its federal plans, I would encourage the agency to find ways to better align with Wyoming's state plan.
"Folks representing energy, agriculture, recreation and conservation all came together to help frame the state's plan to ensure a strong habitat for sage grouse in Wyoming. There are positive changes that can be made to the federal plans, but we should be careful and thoughtful about how we do that. Wyoming will be engaged in this process and will continue to work with the BLM," said Mead.
Mining groups applauded the Department of Interior decision to reopen the sage grouse compromise, as did the National Cattlemen's Beef Association and its affiliated group, the Public Lands Council. The group said the 2015 plan "created inflexibility" for land managers that restricted ranchers from properly managing rangelands where sage grouse were located.
"We know the ranching community, specifically public lands ranchers, have unique challenges and opportunities. The one-size-fits-all approach restricted our ability to play our part in this conservation effort," said Ethan Lane, executive director of the Public Lands Council. "I want to thank the Interior Department for their willingness to work with states and ranchers to get these plans right."
Other ranch groups were a little cooler to the idea of reopening the sage grouse plans. The U.S. Cattlemen's Association, in a joint statement with the National Farmers Union, noted the 2015 compromise specifically avoided listing the greater sage grouse as threatened or endangered, which would cause far greater restrictions on the use of grazing lands.
"While we recognize opportunities for improvement in certain areas of the plans, we can best move forward by refining the existing plans instead of starting over with new regulations. Throwing out the current plans and starting over will lead to years of uncertainty for both producers and land managers," USCA and NFU stated.
The multi-year talks to avoid ESA were largely driven by states, especially leaders in Wyoming, specifically to help protect the ranching community, Fosburgh said.
"The ranch community was definitely in the room during the whole sage grouse negotiation and there is a saying of 'What's good for the bird is good for the herd.' So they bent over backwards. Agriculture and grazing are super important in Wyoming and that's where this agreement was originally felt. That meant having the cattlemen in the room every step of the way."
Fosburgh added there are "fringe elements" of different stakeholder groups who do not like parts of the habitat agreement. Still, he argues most ranchers understand their states negotiated in good faith to avoid a federal designation. "By and large, the grazing community does very well in this agreement and it's very much in their interests not to have a listing of the sage grouse, which is why they came to the table. I think they were taken care of in this, by and large."
Land Tawney, a Montanan and executive director of Backcountry Hunters & Anglers, concurred with Fosburgh's assessment on the possible implications of breaking the compromise.
"The good thing is we have the states, led by Wyoming and a conservative, Republican governor, pushing back hard on any sort of changes made to these plans because so much went into this," Tawney said.
Tawney added there are 348 other species that also live in the same habitat as the sage grouse as well. The sage grouse review "is a huge deal in the West and how this comes out is going to be very fundamental for the future of the species as well as a bunch of other iconic species on more than 70 million acres," he said.
Chris Clayton can be reached at Chris.Clayton@dtn.com
Follow him on Twitter @ChrisClaytonDTN
(ES)
© Copyright 2017 DTN/The Progressive Farmer. All rights reserved.